Xiaomi Redmi note 5 , Redmi note 5 pro is the latest mid-range smartphone from Xiaomi which comes with the latest mid-range hardware and MIUI. Xiaomi is shipping the smartphone with MIUI 9.2 based totally on Android 7.1 Nougat preinstalled with lots of recent features which you can know about.
We have been using the Xiaomi Redmi note 5 pro for the previous few days. on this post, we've got tried to cover some of the best features and Redmi note 5 pro tips and tricks. let's get started!
Xiaomi Redmi Note 5 Pro tips and tricks
1.Activate Face Unlock
If you bought the Redmi Note 5 Pro in the first batch, the Face Unlock update would have greeted you as you unboxed.
To activate Face Unlock in Redmi Note 5 Pro, go to Settings>>Lock Screen and Passwords>> Add Face Data.

Once you have added Face data, you can toggle on the option to unlock the phone using Face data on the subsequent screen.
2.Quick Ball
The Redmi Note 5 Pro has a taller than usual form factor. the 18:9 aspect ratio makes it comfortable to grip and handle for a 6-inch display phone, but you might still have trouble reaching all navigation buttons, power buttons, etc.
To work around the issue, you can activate Quick ball. This is a floating button that can let you access shortcuts like Home, Back, recent apps, torch, notification panel, etc.
You can position it anywhere you like and drag it from the corner when required. To activate Quick Ball, Go to Settings>>Additional Settings>> Quick Ball. 
3.Shortcuts
Shortcuts can be useful at times when you want to launch the camera to click a picture, the least you have to do is wake the device up and then launch the camera from the lock screen shortcut. But how about launching the camera without even waking the device? There are many more shortcuts on your Redmi Note 5 Pro which you need to know about, let's check them all.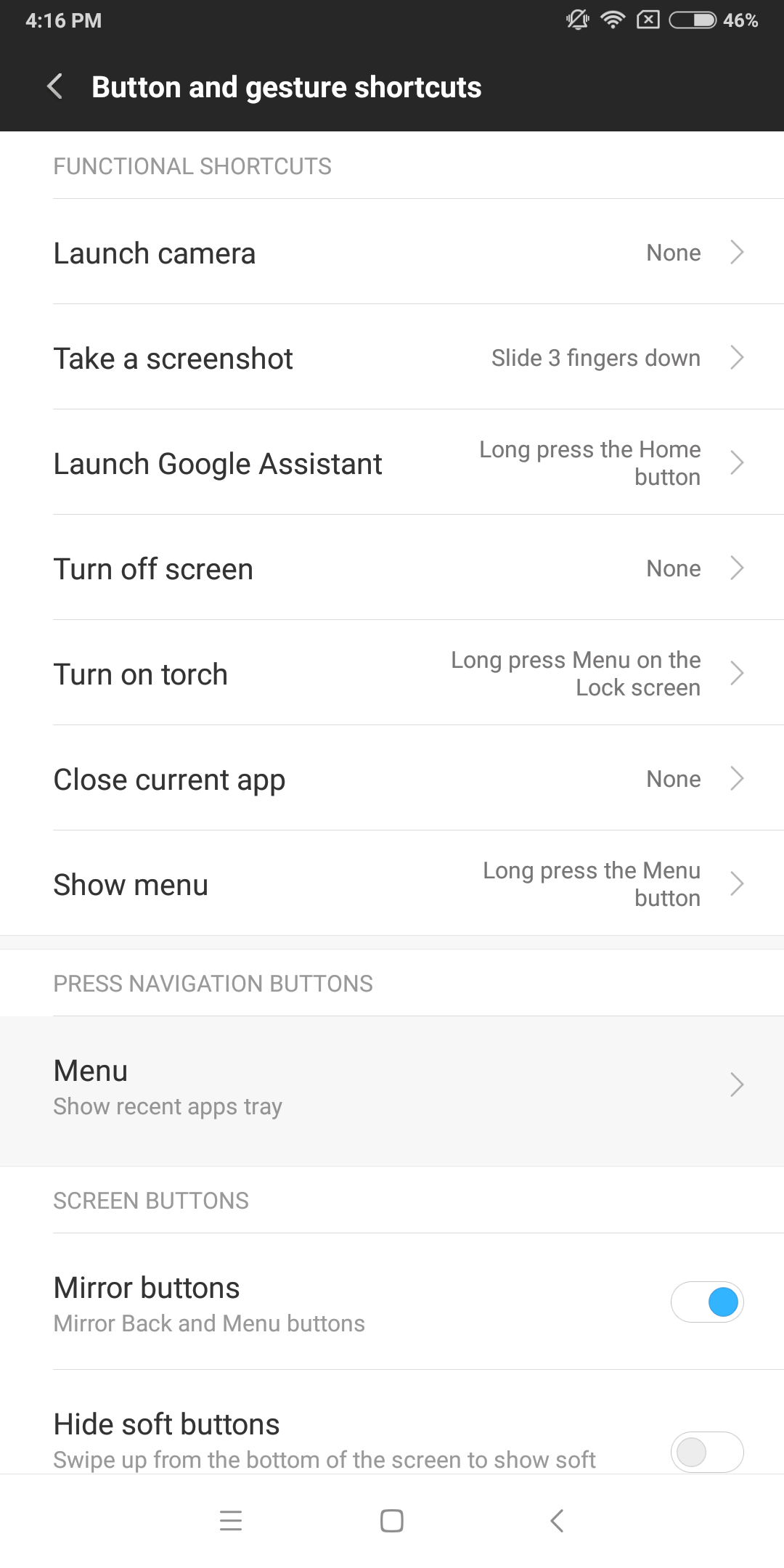 Camera shortcut: To launch the camera, just press the volume down button twice repeatedly. Enable this feature from Settings > Additional Settings.
Double tap to wake: This feature will let you wake the smartphone's screen just by double tapping the display to take a sneak peek at the notifications. To enable this feature
Finger swipe gestures, go to Settings > Additional Settings > Gestures.
4.Enable EIS on Camera
Talking about the cameras in the mid-range phones, the Redmi Note 5 Pro has the best camera feature and specs. With the inclusion of dual-camera setup, the device manages to capture great shots and video in its segment. However, one of the most important features EIS to stabilize images and videos was missing when the phone was initially launched. However, with the later OTA updates, Xiaomi has brought the most asked feature and to enable Electronic Image Stabilization in Redmi Note 5 Pro.
Head over to Video Mode in Camera Application and tap on the menu button on the top-right corner and tap on Settings.
Search for the Image Stabilization option under Video Settings and toggle to enable/disable it and you are ready to take shots without any blurs.
5.Portrait Mode for Front Camera
The Redmi Note 5 Pro has been touted as the camera beast of the country. As such, it was a no-brainer for the camera to come equipped with a portrait mode. However, for some reason, the portrait mode on the stock camera app only works for the rear camera. Well, that's because the portrait mode for the front camera is available in another section. To enable the portrait mode for your front camera,
1. Open the camera app and select the "Photo option". Tap on the "switch" icon to change to your front-camera.
2. Now, tap on the person icon in the top row as shown in the image. This will enable the portrait mode or the depth-effect. And that's it. Images clicked using this mode will have a blurred background, thus effectively creating a portrait image.
6.Second Space
Second Space is a feature which basically enables you to create an additional user on your Redmi Note 5 Pro just like on a Windows PC. You can create a second space just like a guest account for anyone you don't want to share your data with. There are more options in the Second Space menu which will let you import or export the smartphone data across the Spaces.
Once you create a second space, you will see a notification in the notification shade, tap on the second space notification to switch to second space. To exit the second space, you only need to tap the Second space switch on the home screen.
Also Read: The Latest MIUI 10 Has Finally Been Revealed!

7.App Vault
During the launch event, Xiaomi stated that the Indian market is one of their most successful markets, and they will continue to roll out features specific to this market. In respect to that statement, Xiaomi has added Indian-oriented features to the App Vault in MIUI 9 present on the Redmi Note 5 Pro.
With App Vault, users will be able to access important applications like Paytm or Ola by simply swiping left from the home screen. You can get real-time information about your booked ride, or make payments swiftly simply by the swipe of a screen.
8.Full-Screen Mode for Apps
The Redmi Note 5 Pro has a stretched 18:9 display and since Android has scalable apps, you can stretch all apps to support full-screen. To do so on the Redmi Note 5 Pro go to Settings>>Additional Settings>>Button and Gesture shortcuts>> full-screen mode.
9.Erase Objects in Gallery
The Redmi Note 5 Pro has a very handy image editor. You can use it to change image attributes like saturation, contrast, brightness and also to remove unwanted objects. Just open the image in the gallery, click on edit and select Erase tool. scroll over an unwanted object to remove it from the image
10.Share or Recover WiFi Password
If you need to recover the password of a wifi connection, or if you want to share your WiFi with friends without revealing your password, you can do so with the help pf Share WiFi QR code on Redmi Note 5 Pro.
Go to Settings>>WiFi and tap on the WiFi connection that you are already connected to.
Also Read: Moto G6 and G6 Play launch in India: Here's everything you need to know

11.Split-Screen Multitasking
With a 5.99-inch screen, split-screen multitasking is bound to make things easy for everyone. In order to open your apps in the split screen mode, simply tap on the Recent button and you will see the "Split Screen" written at the top of your screen. Tap on it and then drag the app you want to use in the split screen mode. Once you select an app, the option to select the other app will come in the bottom half of the screen.
12.Dual Apps
The Redmi Note 5 Pro is a dual-SIM device, but wouldn't it be great if you could run WhatsApp on both those numbers on one single device? Well, thanks to MIUI 9 on your device, you can. The device comes equipped with the "Dual Apps" feature that allows you to create a copy of another app, such as Facebook, Instagram, WhatsApp, and use different numbers/accounts on them while being on the same device. To make use of this feature, simply head over to Settings -> Dual apps and enable the toggle next to the app you wish to create a copy of.
You can follow us on Twitter, add us to your circle on Google+ or like our Facebook page to keep yourself updated on all the latest updates on how-to guides, Tech tips & tricks and how to get things done.